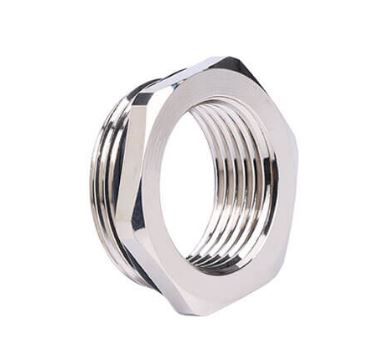 What is reducer ?
A reducer used to adapt the size of a cable gland to fit a smaller cable. It is conical piece of material, such as plastic or metal which fit inside the larger opening of the cable gland and provide a smaller opening for the cable to pass through.
Reducers applicable in electrical and electronic applications where cables of different sizes routed through equipment . It provide strain relief for cables by reducing the size of the opening through which the cable passes, which can help prevent damage to the cable caused by vibration or movement.
Reducers either sold separately or as part of a cable gland kit. It includes a gland body, a locking nut, a sealing washer, and any necessary mounting hardware. When selecting a reducer , it is important to ensure that the reducer is compatible with the type and size of cable gland , as well as the size and type of cable passing through it.
It is important to select the correct reducer size and material to ensure a secure and reliable connection between the cable gland and the cables being passed through it. Improperly sized or poorly made reducers can lead to leaks, cable damage, and other issues that can compromise the safety and effectiveness of the installation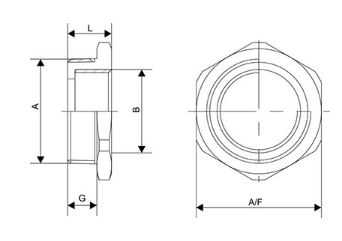 REDUCER ET TO ET
| | | | | |
| --- | --- | --- | --- | --- |
| CODE | A | B | A/F | L |
| REDE03E01 | 3/4"  | 1/2"  | 24 | 22 |
| REDE03E02 | 3/4"  | 5/8"  | 24 | 22 |
| REDE05E03 | 1" | 3/4" | 27 | 22 |
| REDE05E01 | 1" | 1/2" | 27 | 22 |
| REDE05E02 | 1" | 5/8" | 27 | 22 |
| REDE07E01 | 1.1/4" | 1/2" | 36 | 22 |
| REDE07E02 | 1.1/4" | 5/8" | 36 | 22 |
| REDE07E03 | 1.1/4" | 3/4" | 36 | 22 |
| REDE07E05 | 1.1/4" | 1" | 36 | 22 |
| REDE09E02 | 1.1/2" | 5/8" | 45 | 24 |
| REDE09E03 | 1.1/2" | 3/4" | 45 | 24 |
| REDE09E05 | 1.1/2" | 1" | 45 | 24 |
| REDE09E07 | 1.1/2" | 1.1/4" | 45 | 24 |
| REDE11E02 | 2" | 5/8" | 55 | 24 |
| REDE11E03 | 2" | 3/4" | 55 | 24 |
| REDE11E05 | 2" | 1" | 55 | 24 |
| REDE11E07 | 2" | 1.1/4" | 55 | 24 |
| REDE11E09 | 2" | 1.1/2" | 55 | 24 |
| REDE13E02 | 2.1/2" | 5/8" | 68 | 25 |
| REDE13E03 | 2.1/2" | 3/4" | 68 | 25 |
| REDE13E05 | 2.1/2" | 1" | 68 | 25 |
| REDE13E07 | 2.1/2" | 1.1/4" | 68 | 25 |
| REDE13E09 | 2.1/2" | 1.1/2" | 68 | 25 |
| REDE13E11 | 2.1/2" | 2" | 68 | 25 |
| REDE13E12 | 2.1/2" | 2.1/4" | 68 | 25 |
| REDE14E02 | 3" | 5/8" | 80 | 25 |
| REDE14E03 | 3" | 3/4" | 80 | 25 |
| REDE14E05 | 3" | 1" | 80 | 25 |
| REDE14E07 | 3" | 1.1/4" | 80 | 25 |
| REDE14E09 | 3" | 1.1/2" | 80 | 25 |
| REDE14E11 | 3" | 2" | 80 | 25 |
| REDE14E12 | 3" | 2.1/4" | 80 | 25 |
| REDE14E13 | 3" | 2.1/2" | 80 | 25 |
| REDE17E01 | 4" | 1/2" | 110 | 30 |
| REDE17E02 | 4" | 5/8" | 110 | 30 |
| REDE17E03 | 4" | 3/4" | 110 | 30 |
| REDE17E05 | 4" | 1" | 110 | 30 |
| REDE17E07 | 4" | 1.1/4" | 110 | 30 |
| REDE17E09 | 4" | 1.1/2" | 110 | 30 |
| REDE17E11 | 4" | 2" | 110 | 30 |
| REDE17E12 | 4" | 2.1/4" | 110 | 30 |
| REDE17E13 | 4" | 2.1/2" | 110 | 30 |
| REDE17E14 | 4" | 3" | 110 | 30 |
METRIC TO METRIC
| CODE | A | B | A/F | L |
| --- | --- | --- | --- | --- |
| REDM03M01 | M20 | M12 | 24 | 22 |
| REDM03M02 | M20 | M16 | 24 | 22 |
| REDM04M03 | M25 | M20 | 27 | 22 |
| REDM04M02 | M25 | M12 | 27 | 22 |
| REDM04M02 | M25 | M16 | 27 | 22 |
| REDM05M01 | M32 | M12 | 36 | 22 |
| REDM05M02 | M32 | M16 | 36 | 22 |
| REDM05M03 | M32 | M20 | 36 | 22 |
| REDM05M05 | M32 | M25 | 36 | 22 |
| REDM06M02 | M40 | M16 | 45 | 24 |
| REDM06M03 | M40 | M20 | 45 | 24 |
| REDM06M04 | M40 | M25 | 45 | 24 |
| REDM06M05 | M40 | M32 | 45 | 24 |
| REDM07M02 | M50 | M16 | 55 | 24 |
| REDM07M03 | M50 | M20 | 55 | 24 |
| REDM07M04 | M50 | M25 | 55 | 24 |
| REDM07M05 | M50 | M32 | 55 | 24 |
| REDM07M06 | M50 | M40 | 55 | 24 |
| REDM08M02 | M63 | M16 | 68 | 25 |
| REDM08M03 | M63 | M20 | 68 | 25 |
| REDM08M04 | M63 | M25 | 68 | 25 |
| REDM08M05 | M63 | M32 | 68 | 25 |
| REDM08M06 | M63 | M40 | 68 | 25 |
| REDM08M07 | M63 | M50 | 68 | 25 |
| REDM10M02 | M75 | M16 | 68 | 25 |
| REDM10M03 | M75 | M20 | 68 | 25 |
| REDM10M04 | M75 | M25 | 68 | 25 |
| REDM10M05 | M75 | M32 | 68 | 25 |
| REDM10M06 | M75 | M40 | 68 | 25 |
| REDM10M07 | M75 | M50 | 68 | 25 |